INTRODUCTION
CR Kennedy Medical is a leading provider of Gastroenterology and Surgical products in the Australian and NZ Healthcare market. With a strong reputation and professional approach to provide personalised service and support, CR Kennedy was appointed the exclusive distributor of Fujifilm flexible endoscopes in 2013. Strong collaborations with other specialised medical device manufacturers including the world-famous Richard Wolf, Intromedic, Xion Medical and Summit combine to offer an expansive product range across multiple disciplines including endoscopy, urology, ENT, spine surgery, pulmonology, gynaecology, and general surgery. We take a comprehensive approach to improve patient care and outcomes.
We have a large team of Territory Managers covering Australia and NZ, backed by in-house factory trained service centres and infrastructure of system integration, quality assurance, warehousing and logistics personnel. CR Kennedy's ongoing success can be attributed to its overarching principle of providing leading technology products with unparalleled customer service.
Our mission is to support medical practitioners with cutting edge technology and imaging products and accessories in a diverse range of medical disciplines. Our aim is to support better health outcomes for patients and overall solutions for the healthcare system. We embrace the modern advancement in science such as AI for Detection and Characterisation and 4K technologies for high resolution imaging. CR Kennedy is a company built on technology, innovation, solutions, service and after sales support. Our clinically proven products and technologies are constantly evolving to help medical professionals perform more effectively and efficiently.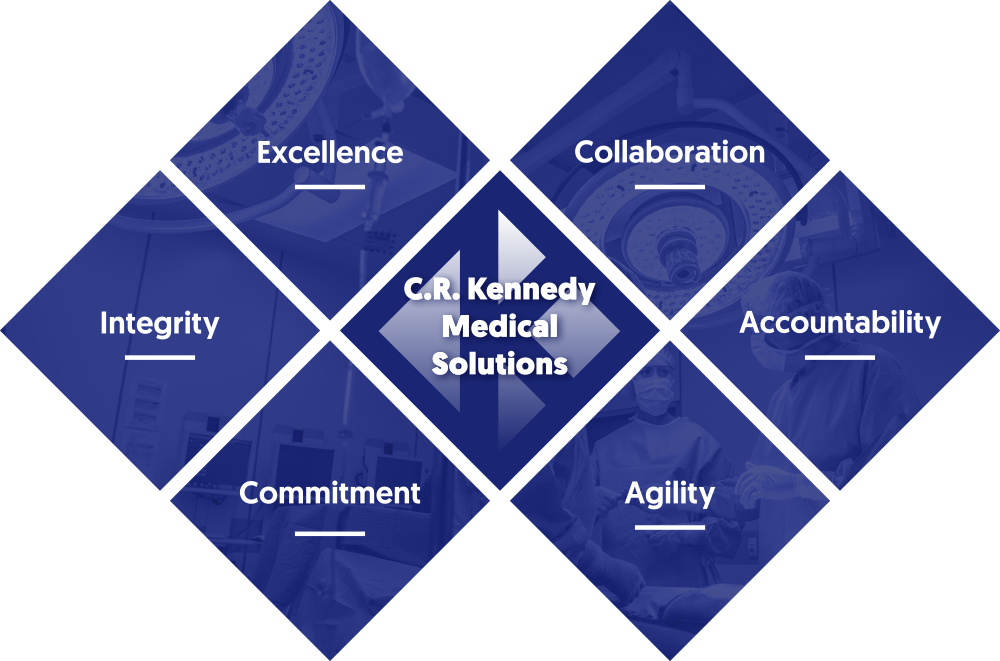 Our Core Values
Excellence - working tirelessly to achieve a positive and strong outcome
Collaboration - working together to achieve the best solution
Integrity - acting with honesty and reliability with the right morals, ethics and principles
Accountability - taking ownership of our actions, our work, our responses, our successes and our mistakes.
Commitment - to our customers; to our responses; to our work efforts; towards achieving the most suitable outcome.
Agility - being flexible and adaptable to any request or enquiry from our customers, and to any given task or situation